A Brief resume;
This was our 63rd visit since we first started our travels in 1978 and the theme this Centenary year was " Commonwealth Rugby Internationals who had died for King and Country"  (there were an astonishing 128 of them!) What followed was a delightful 6 days in France, where we stayed at the family-run Moderne Hotel in the lovely town of Arras, Northern France.
SUNDAY Fifty persons set off from the Metropolitan Police Club, Bushey on a sunny Sunday morning, the 24 May 2015 and we had an excellent mix of 18 – ex Police officers, some with wives, some without, 10 ex HM services Veterans and an assortment of interesting people, 2 nurses (services needed!) 1 midwife (services not needed!) musicians, engineers, schoolteachers, solicitors and more.  Judging by the colourful selection of Rugger shirts worn, everyone must have played the great game of Rugby Football..
We crossed a very calm English channel via P& O Ferry and duly arrived at Calais early afternoon where we made a diversion at the little village of Agincourt of 1415 fame. Not our usual 'Great War' theme but in keeping with the fact that it was the 600 anniversary of the battle this year.  The weather was glorious and the village was milling with mad folk in the throes of an archery contest, France V England. The locals were friendly and there were dozens of authentically dressed, English Archers ( genuine English bowmen who had arrived on huge motorbikes – like the procession from Mad Max)  wearing the leathers and buckles of a lost medieval era.. The French meanwhile, in their gaily coloured, dandy outfits reminded one more of the film, ' Robin Hood – Men in tights.' The museum was open too, and many of the Pals made a visit, some chose to remain in the sunshine and inspect the country fare stalls, which were selling local produce, cheese, honey and excellent beer..
Suitably refreshed, we took up our positions on the final line of Henry's Archers on the ancient battlefield and Professor John Grieve, dressed as a professor, gave us an excellent run down of the actual battle, with repro medieval weapons produced, for a 'hands on' experience and a talk by Ann Harvey on the English long bow and how we could not pull it.  John Grieve however being the top detective, insisted on launching an investigation into Henry V's extreme decision of ordering the execution of hundreds of French prisoners on the battlefield. Was he guilty of a war crime? The matter was not allowed to rest and it culminated in a criminal trial in the courtroom of the Moderne hotel at 10pm that night. Over-acting by certain witnesses led to an overwhelming,  'Not Guilty' verdict of a totally sober, English Jury, much to the bemusement of the French Staff.  Before we left Agincourt for Arras later that afternoon, it would be appropriate to mention that we were soon in our 'Great War' mode and we made an interesting stop at the beautiful and rarely visited British Cemetery at St Hilaire, Frevent where Helen Learney movingly, introduced us to 'Caroles Great Uncle Reggie Barrel.'  We finally got to our hotel at 6.30pm. It had been a long day and we were soon checked in and ready for dinner. Everyone was in bed by 10pm.
MONDAY We left the Hotel, (as at every morning) at 9am and visited the beautiful Arras Memorial to the Missing where we listened to the origins of the Commonwealth War Graves Commission and were given a guided tour of the Arras Memorial, RFC Memorial and cemetery by JN. Many interesting graves and names were pointed out including the grave of the Scottish Rugby International, Tommy Nelson, a close friend of the writer, John Buchan, killed in action on the first day of the Battle of Arras 9 April, 1917. At the RAF/RFC Memorial which stands in the precincts of the cemetery, the name of  the top British air ace, Mick Mannock VC, was pointed out and John Grieve recited from memory, 'An Irish Airman foresees his death'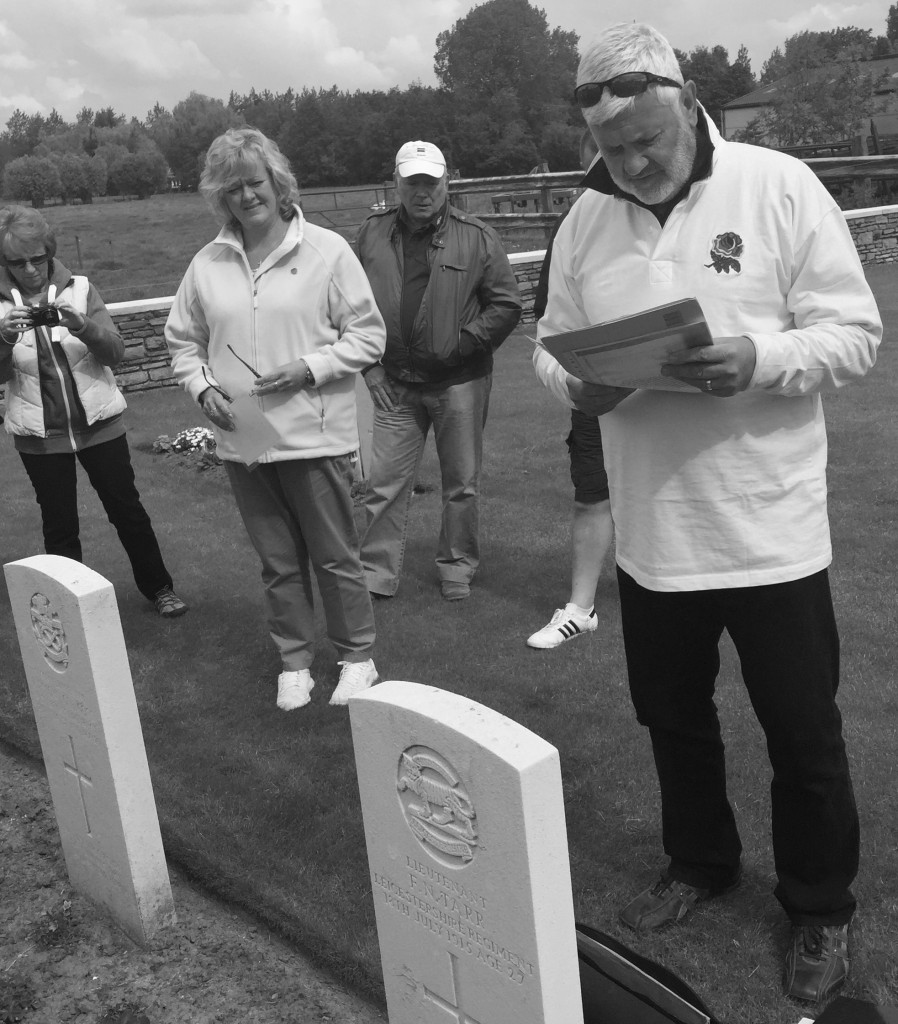 Our next stop was at the Arras Road Cemetery, where retired schoolteacher, Saracen's  and Harrow Rugby Player John Buoy, gave us an excellent presentation at the grave of English Rugby International, Harry Alexander, 1st Grenadier Guards, Killed in action October 1915. Wearing an England shirt, as did many Pals, John illustrated his talk with photographs and 'Rugby Poetry' of the day. We left a miniature rugby ball on the grave and toasted the lads with chilled champagne before we left. 'Well done boys!' From there we went to the inspiring, Canadian Memorial at Vimy Ridge, designed by Walter Allward. From the dazzling white steps of the memorial which contains the names of 11,000 missing Canadians in France,  we looked over the plains of Douai and the Battlefield of Loos. From there we visited the preserved trenches and mine craters of the ridge.  This area is fascinating and there is much to see however, we had to move on and after a quick look at the large French Cemetery at la Targette we visited the huge German Cemetery at Neuville St Vaast. The biggest German cemetery in France with 48000 graves. A reminder that those young men also 'did their duty' – and believed in the same God as our boys.  After cramming all that into our first morning on the battlefields, we stopped at Zivy Crater  where we enjoyed an excellent picnic lunch and lashings of red wine in beautiful surroundings. The afternoon was spent in a circular tour of the northern Arras battlefield before arriving back in Arras at 3.30pm for a requested, 'walkabout' around the town, whereby we visited the place where Joan of  Arc was detained in 1432,  The Grand Place, Barbed-wire Square, the birthplace of Robespierre and the place where the guillotine stood in the Place du Theatre. All this walking led to 40 breathless Pals working up a thirst so we were suitably watered with ice cold Ch'ti beer sitting out in the sunshine at the tables of the appropriately named 'Bailey' Bar.  (The owner thought Christmas had come early) A pleasant evening at Dinner whereby we were joined by Nigel & Sarah Stevens of the Commonwealth War Graves Commission. The band struck up rather out of tune, due to extreme fatigue.
TUESDAY. We departed the hotel at 9am for the Ypres Salient, where there is so much to see – but so little time  to see it in one day. On the coach to Ypres, JN outlined the story of the Ypres salient and what a 'Salient' means.. the most dangerous place to be.  Surrounded on three sides. In the words of one old soldier, "A place where you can get shot up the arse." We also spoke about the Menin Gate and it being 'the most sacred place of the British race.'
Our first salient stop was Railway Dugouts Burial Ground (Transport Farm) a most beautiful place with many graves. Here we visited the grave of a tough Leicester Tiger and England International, Frank Tarr, whose name is still revered at Leicester RFC. Once again, a fine presentation by John Buoy. We toasted the lads with champagne and moved onto Sanctuary Wood Cemetery, where we had a special commemoration for Bill Hay, an old soldier who had served with the 9th Battalion Royal Scots during the Great War. At his request, the Hampstead Pals brought his ashes back to the graves of his 'Youthful Chums' in 1985. So here – 30 years on this year – we placed a specially made memorial stone made from Scottish granite on the grave of his best friend 'Jocky' Jack. Where he now sleeps.
Bill was toasted with 'Rusty Nails' his favourite drink. Just three graves along from Bill Hay, in the same row, lies Jimmy Pearson the Scottish International Rugby Centre three quarter who also served in Bill's Company of the 9th Royal Scots.  A fine presentation, was made here by Scot, Bill Gemmell, wearing a Scottish rugby shirt and we left a Scottish mini-match ball on the grave. We then moved to the rear area and the old British Army recreational town of Poperinge and to a lovely cemetery on the outskirts of the town, Nine Elms where John Buoy (wearing an All-Black Shirt) told us the amazing story of the New Zealand All-Black and Captain, Sergeant Dave Gallaher of the Auckland Regiment Killed on 4 October 1917 at the Passchendaele offensive. What a man! what a player! We enjoyed a superb lunch here too.
While we were in the Poperinge area we took the opportunity to visit another of the 27 England Internationals to die, this time Alexander Findlater Todd of the Blackheath Rugby Club and who was killed at Hill 60 in 1915 and now reposes at Poperinge Old Military Cemetery. It was a gorgeous afternoon and the cemetery was a picture of colour, the flowerbeds at their best in the spring sunshine. We made our way into Ypres and gave everyone the opportunity to do a little shopping or beer tasting, but not before JN had led a pleasant stroll from the Lille Gate around the picturesque ramparts to the Menin Gate, pausing only to see where the 'Wipers Times' was printed. Dinner was booked in the 'Den Anker' Café and the majority of the Pals met there for a very pleasant dinner and Belgian Beer sampling, before making our way up to Sir Reginald Blomfield's impressive,  Menin Gate Memorial in good time at 7pm, to get a place for the 8pm ceremony of remembrance. The Memorial ceremony was as usual, packed with (mainly) schoolchildren, probably 800 people present. Nevertheless it was as moving as ever and is a daily reminder to, 'The Armies of the British Empire who stood here 1914-18 and to those of their dead who have no known grave' (A staggering 55000 on this memorial alone) What is different to the ceremony from when the Pals first came here in 1978 with Bill Hay, when 20 people (including 15 of us) turned up and one bugler on his bike and now, when 1000 people per night is not uncommon, the wreath laying, the commemorations, the speeches, the bands. Also the phenomenon of a forest of ipads, tablets and cameras held high when the buglers start the Last Post.  In spite of this commercial twist, the Menin Gate remains sacred to us. Ypres is a lovely place. It has become rich through British money and British blood.  Poor bar owners, café proprietors, tobacconists or chocolate sellers are unknown. We arrived back in Arras at 10pm following a 60's music quiz on the coach, won by Dick West.  The First XV then crossed the road to the welcoming, Passe Temps bar. It was a beautiful warm evening and yards of ale were swallowed and bawdy Rugby songs sung until the early hours.
WEDNESDAY Straight to Moeuvres Communal Cemetery Extension, which lies on the 1917 Cambrai battlefield, where we met Commonwealth War Grave Commission top man, Nigel Stevens. There we held a short ceremony in memory of 'our' Metroplitan Police VC winner Charles Pope who served at Chelsea Division before emigrating to Australia in 1912 and returning to France with the AIF in 1915. Serving in the 11th Battalion AIF, he was killed 'facing fearful odds' nr Lagnicourt on 15 April 1917. His Police background and service, was related by John Grieve, who then laid a wreath on behalf of the Metropolitan Police.  During this time at 11am we were in communal thoughts with his descendants, in particular his grand daughter Mary in South Africa, who attended the ceremony with her family last year. We then opened the champagne and toasted Charles Pope VC, his family and all Police officers who gave their lives in the Great War. Nigel Stevens then gave us an interesting talk on the work of the CWGC. From here we journeyed along the Cambrai- Bapaume highway, stopping just before Bapaume at Red Cross Corner Cemetery. This tiny cemetery just off the main road, contains 219 graves and one especially we were interested in, that of Phil Waller the Welsh Rugby International who served with the South African Artillery and was killed in December 1917.  John Buoy once again told us his story but was unable to find a Welsh Rugby shirt to wear, for some strange reason. Of all the stories, Waller is probably the most interesting as he was born in England to Scottish parents but played his Rugby for Newport in South Wales and wanted to play for Wales! He was capped six times for Wales before touring with the British Lions to South Africa where he decided he liked the country, the Rugby and the beer so much he decided to settle. When war broke out he volunteered and came to France with the SA Heavy Artillery. The same shell that killed him,  also killed his Commanding officer and friend, the Rugby-Playing Major P. Fitzpatrick who is buried next to him. The result of which, was told to us by Ray Almond and is (briefly) as follows..  Sir Percy Fitzpatrick's (Father) wrote to Lord Milner and suggested that there should be a two minute silence on Armistice day as was held in Cape Town in 1918. This was immediately approved by the King. It remains in place to this day. A Welsh Rugby Football was placed here. From there, we went across the 1916 Battlefield and along the Albert-Bapaume road to Delville Wood to view the South African National Memorial but also a useful comfort stop. We then made our way to the large, Dernancourt Military Cemetery (Extension) just to the rear of the 1916 Somme battlefield, with over 2000 Commonwealth burials. Here, we decided to have a picnic lunch as there is a low wall at the edge of the car park ideal for plate juggling. Janice Buoy, herself a retired school teacher, then told us about Sapper Alfred Harris (John's Grandfather) of the 1st Field Company Royal Engineers who was killed during the very last days of the Battle of the Somme on 14 November 1916. He was from Bristol. However her talk was interrupted by the take off of the giant 'Guppy' from nearby Meaulte Aerodrome!  A flypast especially arranged by Peter Crew. It was here we met Darren, an Australian visitor and Paul Hogan lookalike, who just happened to be in the cemetery and he joined us for a gorgeous picnic lunch. We noticed he was covered in tattoos, all connected with his grandfather who had served with the 14th Battalion AIF. 'Jacka's Mob.' The largest on his thigh, being 'Albert Jacka VC 14th AIF'  He was visiting all the known graves of 14th AIF members. Well, we did our bit for Aussie-Pom relations in spite of the looming ashes series. I think he enjoyed himself as he settled down for a nap as we left. We then made our way to Trones Wood as a special visit for Judith Rushby.  (her grandfather was killed there) Trones Wood was captured by the renowned 18th (Eastern) Division on 14 July 1916, during the 'Battle for the Woods' on the Somme. The attack was cleverly masterminded by that brilliant soldier Frank Maxwell VC.  The tranquil memorial to the 18th Division now stands at the edge of the wood 'The Greatest thing in the world – that ye should love one another as I have loved you."
THURSDAY To the Somme via Warlencourt Cemetery to Pozieres and the ruins of Pozieres Windmill and the story of the 2nd Australian Division's push on the village.  The extraordinary feats of Albert Jacka VC.. the Tank memorial and Cognac and Crème de Menthe.. (No, we did not drink that – they were Tank names) Down to Pozieres Memorial to the Missing of 1918, where Mike Jackson gave an interesting talk on the actions of an officer, Leo Dobbing (Killed 21 March 1918) whose name is on the memorial and who was the guard room officer during the Dublin Easter rising of 1916. From there we went to Ovillers Military cemetery where we laid a wreath in memory of Alf Razzell who had served with the 8th Battalion Royal Fusiliers and we promised him just before his death in 1996 that we would 'remember' the sacrifice of his young comrades made at Ovillers, on 7 July 1916. We have not failed him. Bill Gemmell gave us a moving presentation at the grave of Captain John lauder, son of music hall star, Sir Harry Lauder. 'Keep right on to the end of the road.' From there we went up to the  imposing Thiepval Memorial, where we took advantage of the picnic tables, for a delightful lunch prepared by our smashing dinner ladies, Coren Smith, Claire Cutts and Anne Jackson with help from John Amos. (You can always find him in the kitchen at parties) We all walked up to Sir Edwin Lutyen's  Memorial which contains the names of over 72000 Officers and men of the British Army, missing during the Battle of the Somme and who have no known grave. Among the names is Captain Ned Shephard, The Black Watch who was killed in the Ancre Valley in July 1916 and the Grandad of Jean Latham. Whilst at the memorial, John Buoy pointed out the name of the England Rugby International, Lancelot Slocock 10th Kings Liverpool Regiment killed in the attack on Guillemont on 9 August 1916. He was one of 57 players from Liverpool RFC to be killed in the Great War. WE then left for Arras stopping first at the huge Serre Road No 2 Cemetery with it's 7000 graves and where Roger Learney, in the afternoon sunshine,  introduced us to his collection of weapons of the war, including a Mills, Bomb, Webley Pistol and Cavalry sword. From there, we made our way back to Arras, with a last stop at the pretty, Indian and Chinese Cemetery at Ayette Village. Beautifully kept by the CWGC and rarely visited with just 63 graves, we 'adopted' a grave each and place a burning joss-stick on each one, as a token of remembrance, thanks and peace. The evening was a grand affair. A noisy dinner. Loud out of tune, music. Travelling Light.. Good wine and wonderful company.
FRIDAY. A sleepy coach home. Eurotunnel. The only way! Arrival back at Bushey, 2.30pm. Thank you Ray!
Just a few of your reflections;
Well, We didn't think that you could surpass yourself, but you have! We had a fabulous few days with you and the Hampstead Pals. The dynamics between all involved just seemed so right this year. We particularly thank you for facilitating a solution of my request to go to St Hilaire Cemetery on behalf of Carole to visit her great uncle Reggie. I found it a very moving experience and I'm sure that he knew we were all there for him. The Carnot Restaurant have, 'upped their game' and the fayre was really of a very high standard it all worked extremely well and you managed to please everybody!  Your forethought, impeccable planning and hard work, along with several other key people, ensured that we had a terrific holiday. Thank you so much.
With Love from
Roger & Helen Learney
Brilliant tour as always, it's always the highlight of my year. I always think they are perfect and can't get better and somehow they do. Always fascinating, incredibly interesting and enormous fun! I don't know what I would do without the Hampstead Pals. Please put me down quickly for the May 2016 trip.
Jean Latham
I would like to once again express my thanks on behalf of myself and Sam, for what was one of the most enjoyable weeks we have had. We can honestly say that we hardly stopped laughing throughout. However, this was interspersed with very poignant and moving moments that demonstrated the sacrifice made in France. Without doubt this atmosphere was due to the hard work and care that you put into the planning of the trip.
As a result of our experience I would like to book four places on the trip next year. As you quite rightly pointed out that everyone in Britain should see what that generation did in order to allow us the life we enjoy.
Kevin Bryan
Just my own word of thanks for last week which was absolutely fabulous. In the Great War and Second World War we were a nation to be proud to belong to. But look at us now. Anyway, thanks again and please put me down for your next year – if there is a place!
Major John Hickie
Jon, what a great week with a great bunch of folks. Thank you. I learnt and saw a lot of stuff, which was new to me. Regards to all the Pals and as a first timer, thanks for making me feel at home.
Pete Butterworth ( Tonto )
Firstly thanks to both of you for a great trip – Jon B for all the Rugby research and Jon N for the wealth of knowledge and fun. Put me down for the next trip as I am definitely coming!
Mary Flowerdew
A big thank you for another great trip. Thought the evening meals were a lot better this time. Picnics have always been good, as is the company. Great weather too. We were so lucky.
Gilly Shorter
I have had a really good night's sleep and the washing machine is working overtime and I now have time to reflect on the trip.  Both Trevor and I had a great time with a great bunch of people and thoroughly enjoyed ourselves. As always the knowledge of the Great War that you impart to us all is fascinating and John's stories of the rugby players were an added bonus. Having jumped on the scales this morning I find that I managed to put on nearly half a stone which is a tribute to the catering on the trip. Thank you for another excellent trip. We both want to come again next year if you will have us.
John Amos
That was a fabulous tour – copious thanks to Jon, The Dinner Ladies, all other speakers, helpers, and organisers, Ray the world's best coach driver, the band, and all of you for your company and friendship – we will do it again before too long. Whilst on that note, Jon, please put our names on the list for the May 2016 tour.
Roger & Celia Smith
A fabulous trip indeed.  My thanks too, to all of those who worked so hard to make it such an enjoyable trip. I just wanted to say a huge thank you to yourself, Jon for an tremendous, fun and educational tour and to all of the great people that I had the privilege of spending the week with. The food and banter were absolutely top drawer and I look forward to more of the same next May… Bring it on!!
Sam Dunkeley
Thanks for another great Pals trip, memorable WW1 characters & Azincourt. The Rugby theme with Janice & John was masterly. Thanks for all you do for us.
John & Gilly Grieve
I would just like to say again that I had a grand time and life in the office seems terribly dull and really quite sober.
Judith Rushby
What happened?
Lee Reboul