Jonathan Nicholls, retired Metropolitan Police Officer & Author of the acclaimed 'Cheerful Sacrifice' (still in print and in seven editions after 20 years!) is probably, the worlds leading authority on the Battle of Arras 1917. He has been visiting the Old Western Front battlefields, since 1975 and knows every inch of the 1916, Somme Battlefield, The 'immortal' Ypres Salient and the French battlefields of Verdun, not to mention the hidden secrets of the Arras & Cambrai battlefields. Canadian & Australian Battlefields are his specialty too.
Jon has been taking large groups of pilgrims to the battlefields since 1977 and is constantly in demand as an independent guide. He is now offering, 'Tailor-Made-Tours' which are private and personal pilgrimages to any part of the old Western Front by a luxury Land Rover 4 wheel drive, or top range, 7 -15 seater minibus. It is a simple fact; the best way of seeing a special area of the battlefield, or perhaps the grave of a loved one, is by quiet, private pilgrimage, with only friends and family present. The easiest way of getting to some of the more remote and beautiful, British cemeteries on the battlefields, is by a safe, 4×4 off-roader, especially in the winter months. Unless of course, you want to walk, which can be arranged also!
Prices vary, according to your wishes – length of stay, number of nights etc – many guests prefer luxury accommodation with good dinners, fine wines & champagne etc. Some prefer a more basic, 'billet' of 2 star accommodation, Belgian beer, mussels and chips!! Whatever your wishes, they are personally tailor made for you by Jon. An unforgettable, historical journey, back in time.
Contact Jon Nicholls by email: nicholls.jonathan@gmail.com or use the contact form on this site.
Jon is a member of the Western Front Association (no 10) & Friend of the Imperial War Museum.
Recent clients include;
Pamela Holliday and Jarvis Browning. (from Harrogate UK)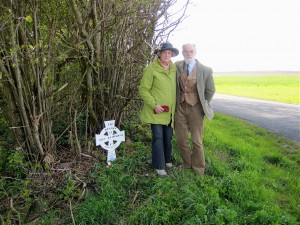 On 23 April, this year, 95 years after his death, Jon located the area where Philip Hirsch VC, 4th Yorkshire Regiment was killed in action on 23 April 1917, and took his Nephew and niece back to Kestrel Copse on the old Arras battlefield, to the scene of where he won his posthumous VC. Jarvis left a replica cross on the battlefield, of the one which had originally been placed on his grave. See photo. This first-time pilgrimage was featured in 'Britain at War' magazine, May 2012. Recommended to contact Jon by Clive Harris of 'Battle Honours'
Stan & Marge MC Lean (From Halifax Nova Scotia, Canada)

Duly flew over in May this year to meet Jon in Arras, who escorted them to the grave of Stan's Uncle, Hector MC Lean 25 Battalion CEF, killed in action on 7 January 1917. He is buried at the remote, Tranchee de Mecknes Cemetery Aix-Noulette. The 4×4 was extremely handy at this muddy corner of a foreign field. Visits to Vimy Ridge and Vis-en-Artois ensued and an emotive day for these first time visitors to the battlefields. 'Before endeavours fade'. Recommended to contact Jon, by the Canadian Tourist Board.